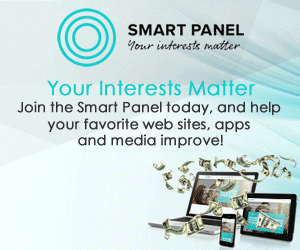 There are a lot of apps available for you to download and install to your mobile devices.  There are even some that will pay you to do this and even less that will constantly reward you with cash for keeping the app installed but the Smart Panel does just that.  You may be wondering exactly what the
Smart Panel
is and why they will pay you to install their app.  I will explain this and how the app works in this post.
What is the Smart Panel?
The
Smart Panel
is an ongoing research project ran by Verto Analtytics, that will ask how you use the Internet.  This panel is made up of a group of people that help to improve your favorite websites, apps and media technology by anonymous information that they gather from people like me and you.  This information helps the companies to give you better services and more features.
Why will they pay you to install the app?
The answer is quite simple.  Because your feedback and input are invaluable.  The stats that are collected by the Smart Panel helps to make the Internet a better experience.
That information is priceless to these various companies so they will reward members of the Smart Panel app for their participation.